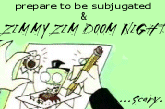 fanart + more fanart + fanfics + submit + guestbook
ZZDN created by Jessica
Beta Readers
Here are the names and grades of volunteer beta readers listed in alphabetical order. Wanna be a beta? Send your name, grade, and e-mail to batsani@hotmail.com.
Be sure to include the name of your beta when submitting your work!
Name: Invader Xat
E-mail: BigDogz227@aol.com
Grade: 8th
Name: Kaelyn
E-mail: www.crazyklyn@yahoo.com.
Grade: 4th
Name: Kriz10 D4ge
E-mail: invaderkriz10@hotmail.com
Grade: 10th
Name: Meg
E-mail: VxZiggyxV@aol.com
Grade: 10th
Name: Sarah
E-mail: sedate_fangirl@hotmail.com
Grade: 12th
Name: Saralyn
E-mail: indianna_gurl2@hotmail.com
Grade: 10th
Name: Stephanie
E-mail: flyin_monkeyz@hotmail.com
Grade: 9th